22.08.2012
New Hitachi products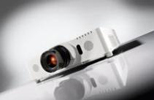 New Products: New Installation range hits the market
Earlier this year, Hitachi unveiled an exciting new range of six installation LCD projectors: CP-X8150, CP-X8160, CP-WX8240, CP-WX8255, CP-WU8440 and CP-WU8450. Built around a contemporary new design, the new models are all about high-quality images, flexible installation, connectivity and lower total cost of ownership. And with their longer filter maintenance cycle and compact design, they're set to be a big hit in large theatre and creative environments.
New Products: Enhanced energy savings for new Multi-purpose range
Hitachi is delighted to announce a new and improved range of Multi-purpose projectors: CP-X2515WN, CP-X3015WN, CP-WX3015WN and CP-X4015WN. These are the first to contain ImageCare technology, which enhances an industry-leading eco features by combining optimal picture performance with maximum energy savings. Also, by using our 'Projector Quick Connection' App, users will be able to wirelessly display documents, images and webs pages from their iPad, iPhone or iPod touch via any projector in this range. Other features include updated network functionality and full compatibility with our TB-1 wireless tablet.
Events: Installation models stir up interest at Steljes Shape Roadshow
In May, Hitachi showcased their latest models at the ever-popular Steljes Shape Roadshow. Their stacked CP-WX8225 Installation models impressed visitors with their brightness and image quality, while the versatility of the CP-X3015WN wireless Multi-purpose model and the hands-on interactivity of the CP-AW2519NM interactive also generated interest among the crowd.
Awards: Ultimate Short Throw recognised with iF design award
As one of the world's oldest design competitions, the iF Product Design Award is globally recognised as a mark of outstanding design and quality. That's why Hitachi is delighted to announce that their CP-A221NM, CP-AW251NM and the CP-A301NM Ultimate Short Throw products won this award for their unique curved design, free shape lens and motorised mirror.