Fuji Electric, Static relays
The new generation of static relay allow over-current, repeated loads and excessive temperature rises:
- Replace mechanical relays
- Easy to set up (panel mount or DIN rail)
- Modular design for low noise operation
- High operating frequency and exceptional levels of durability
- Integrated zero crossing voltage allow reduction of electromagnetic emissions.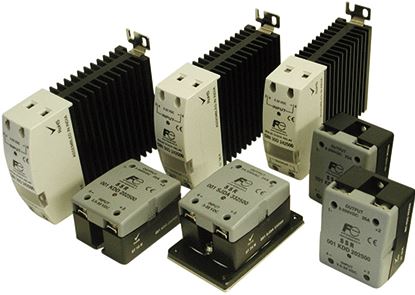 Fuji Electric static relay features.
- Nominal intensity : 25A to 40A (depending on the model)
- Control direct voltage (depending on the model)
0V< OFF <1.5V
3V< ON <32V
Response time:
- ON : 40ms
- OFF : 80ms
- LED display and indication (command signal)
- Frequency range : 47 to 63Hz
- Pick-up voltage : depending on the model
- Input resistance : 33Kohms
- Drop-out voltage : 1.6V
- Opto isolation : 2500 VAC
- Operating temperature: -30 to +80°C
- Protection : IP20
- Compliance: CE, UL
Avantages:
- Economical
- Available from stock
- DIN mount or back plate mounting
- Operated from Fuji controllers
Fuji Electric salient features.
- Opto Isolation 2500 VAC
- Zero Voltage Turn On/Random Turn On
- TTL/Cmos Compatible (Sink mode)
- Output : NO/NC Configuration
- Safety cover provision
- Built-In Snubber
- Chassis Mountable/DIN Mountable with Integral heatsink
- Reverse Voltage Protection